Original Link: http://www.anandtech.com/show/1035


This year's Fall Comdex is much different from what we're used to seeing; the show floor is dominated by a handful of major manufacturers, but the motherboard guys are nowhere to be seen. The Microsofts, Toshibas and Samsungs of the world occupied the majority of the show floor and were demonstrating everything from LCDs to Tablet PCs (which we will have coverage on in our newsletter tonight).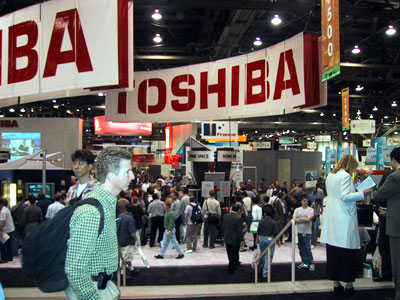 We were only able to count three motherboard manufacturers on the floor of the Las Vegas Convention Center this year - ECS/PC Chips, Soltek and Luckystar, although we may have missed one or two on our first day.
Where have all the motherboard manufacturers gone? The vast majority of them are in hotel suites up and down the Strip. Our own Evan Lieb will be bringing you coverage from his day at the Venetian hotel as he visited ABIT, ECS, Gigabyte and MSI so be sure to sign up for tonight's newsletter to review that.
While Matthew was off covering Tablet PCs, Evan was busy at the Venetian and Kris was looking at fans and cases I paid a visit to FIC to take a look at a few technologies we've obviously been following for a while.
AMD's Hammer in a Small Form Factor PC @ 1.4GHz
Although AMD made FIC shut down the machine, their suite was home of one of the first Small Form Factor PCs running AMD's Hammer processor. The CPU apparently ran quite cool and the system was very low-noise.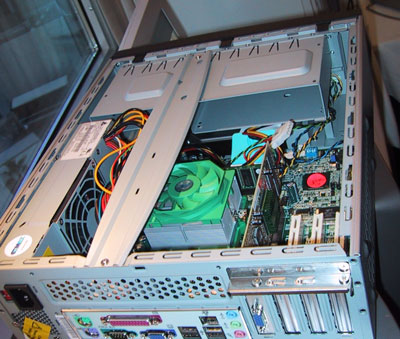 Click to Enlarge
Compared to the 800MHz CPUs that were floating around at Computex, this CPU ran at 1.4GHz; still shy of the 2GHz mark that we're hoping for.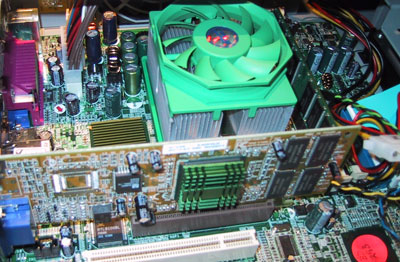 Click to Enlarge
The motherboard FIC was using was based on VIA's K8T400 chipset and was apparently running flawlessly.
Hammer Motherboards up and Running
FIC was also proud to display the fact that they had all four of their Hammer boards working properly at the show, including motherboards based on NVIDIA's Crush K8 chipset (nForce2 for Hammer).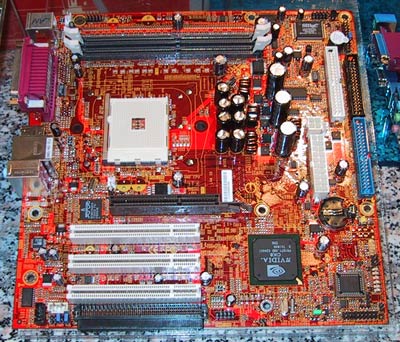 Click to Enlarge
The above CK8 board is fully functional and is actually designed for an OEM project of FIC's. The board will be available in a retail version as well.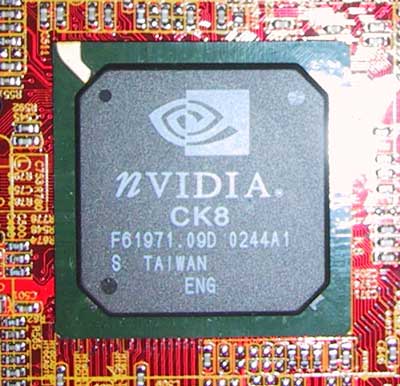 Combine this with what we heard a few weeks ago and it does seem that the motherboard manufacturers are definitely waiting on AMD to provide CPUs for Hammer's launch; the chipsets and boards are basically ready.
VIA's KT400A - Dual Channel DDR?
Because of increasing pressure from NVIDIA on the Athlon XP chipset side, VIA will be going ahead with the KT400A as planned. The chipset is scheduled to be released early next year, possibly in the January - February time frame.
We caught a glimpse of a KT400A sample at FIC's booth: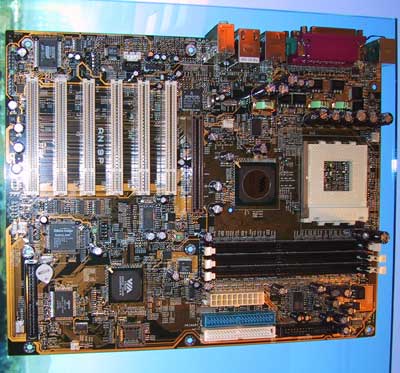 Click to Enlarge
What was most interesting were the specs attached to the board: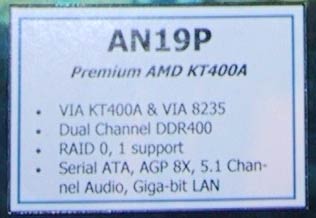 If the KT400A is indeed a dual channel DDR solution then it will be a good indication that VIA is worried about the nForce2, since VIA has previously been an advocate of sticking with single channel DDR on the Athlon XP platform. We're still waiting for confirmation on the accuracy of this sticker as it could just be a misprint, but considering the accuracy of everything else we saw at the FIC suite we're lead to believe that it just may be true.
A dual channel DDR solution for the Athlon XP would only make sense if VIA were able to implement pre-fetching technology similar to that of NVIDIA's nForce2. Even then, remember that the majority of the performance boost the nForce2 saw was in only a small number of applications. It wouldn't be too hard for VIA to implement a dual channel DDR memory controller on the KT400A since a design is already complete for the P4X600.
Intel's Springdale Chipset - Up and Running
FIC also had an early sample of Intel's Springdale chipset, the first dual channel DDR chipset for the desktop Pentium 4 market (Granite Bay/E7205 is supposed to be workstation-only).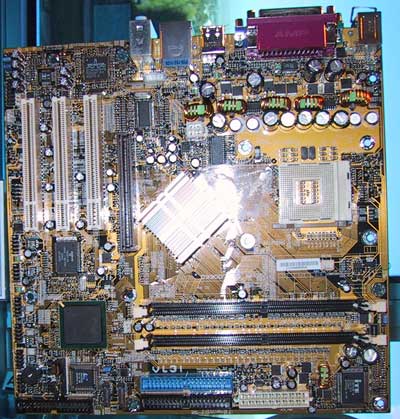 Click to Enlarge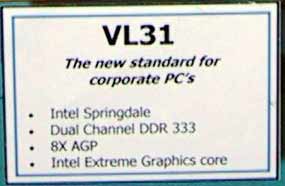 As you'll recall from our story at Computex, Springdale will bring a minimum of:
Dual Channel DDR333 support
667MHz FSB support
AGP 8X support
ICH5 with integrated Serial ATA
Optional 802.11b
Optional Communication Streaming Architecture (CSA) bus for dedicated bandwidth to Gigabit Ethernet devices
There are a few tidbits of updated information we've received today about Springdale that we'd like to share.
First of all, Springdale will apparently support dual channel DDR400 and not just dual channel DDR333. Also, Intel is strongly considering abandoning the 667MHz FSB in favor of a leap to an 800MHz FSB in preparation for Prescott. Dual channel DDR400 is necessary in order to meet the 6.4GB/s bandwidth requirements of Prescott's FSB.
It is unclear at this point whether or not Intel will release a Northwood based Pentium 4 with 800MHz FSB support, we will try and receive more clarification as soon as we can.
The CSA bus that Intel will be introducing with Springdale will be an optional interconnect for those motherboard manufacturers that will ship Gigabit Ethernet on their motherboards. The CSA bus offers 2Gbps of bandwidth between the Memory Controller Hub (MCH aka North Bridge) and an Intel Gigabit Ethernet controller. The obvious benefit of this design is that using Gigabit Ethernet will not saturate the 32-bit 33MHz PCI bus which only offers 1Gbps of bandwidth to begin with.
Not all manufacturers will take advantage of the CSA bus as they will have to use Intel's Gigabit controller, some will be using a Broadcom controller on the PCI bus. Once again, the biggest problem here is that if you max out your Ethernet controller then you also completely saturate the PCI bus.
As the title of this section implies, Springdale was up and running just fine in FIC's suite. It is quite impressive to see this sort of maturity from a chipset that's not going to be out until April or May of 2003. Intel is definitely turning up the heat on AMD and exerting their dominance in the chipset market.
FIC's Radeon 9700 Pro
Finally we've got FIC's Radeon 9700 Pro: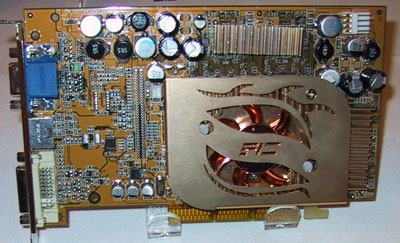 The beauty of this design (to be shipping early next year) is that it is FIC's own and it will be shipped in an overclocked state. Apparently ATI has no problem with FIC shipping R300 based cards overclocked from the factory and thus FIC will be doing just that. This may be necessary to compete with the GeForce FX early next year.
Final Words
Day 1 is coming to a close and we've still got three more articles to bring you. These will all be exclusive to our Newsletter Subscriber so be sure to sign up here, it's free.