Antec P150 (cont'd)
This door conceals the front-loading hard drive bays, which are individually removable. Each bay houses a sled that incorporates rails for extremely easy hard drive installation. Four silicone grommets are employed to further diminish hard drive vibrations from adding to the system's noise, and once the hard drive has been mounted to the sled, it simply slides and locks into place from the front.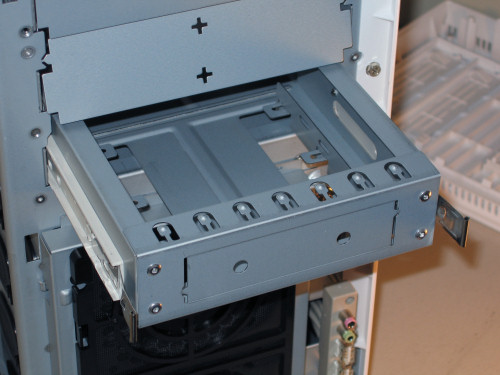 For the other 5¼" drives, the user simply has to attach two included rails to either side of the drive and it will slide and lock into place from the front. One other handy feature is that six rails can be stored in holders in the bottom of the case.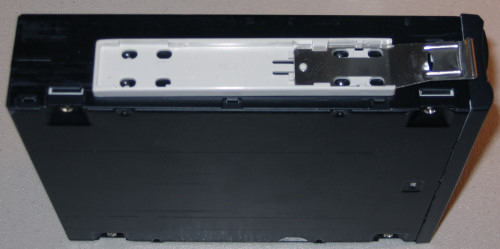 The only active piece of cooling hardware present in the P150 is one of Antec's tri-speed 120mm fans. In a case of this size, even a single 120mm will be able to move a lot of air through the enclosure and, combined with a decent power supply, it should be more than adequate for cooling moderate to high-end rigs.
really
improves noise levels is probably a much deeper topic than this article can provide, but rest assured that it certainly can't hurt, considering that plastic truly is a better sound insulator than steel.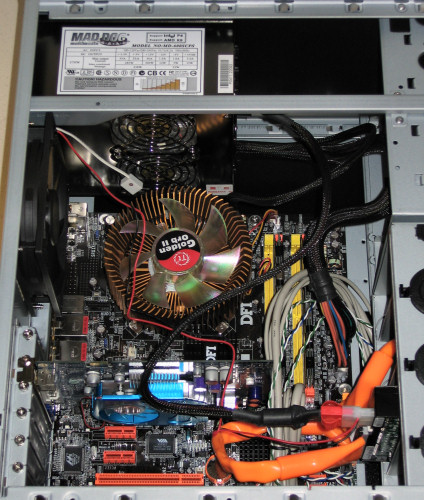 In our last internal shot seen here, we can appreciate the case's dimensions It's not exactly spacious inside, but it's not that cramped either. "Large enough" is the term that comes to mind, but just like many other cases, the side-mounted IDE ports on our DFI motherboard aren't extremely easy to work with in the P150, but they are at least manageable.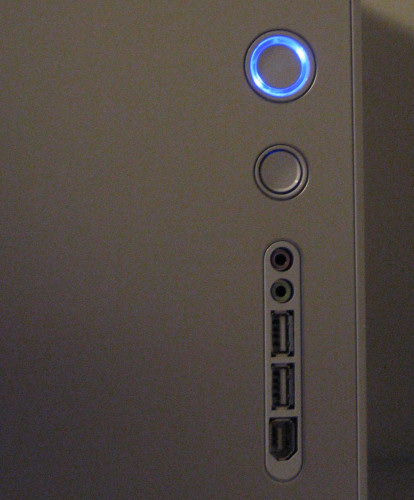 Last, but not least, we thought that we should include a shot of the glowing blue ring around the power switch, which indicates that the computer is on. It's certainly subtle, but still a nice accent on an already stylish case.